Daylight

solutions 

& 

innovative
integration of 

Safety & Energy

 systems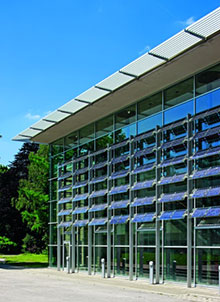 Rooflight Project designs and produces transparent components for facades and roofs and global solutions for smoke and heat evacuation (SHE) in case of fire while taking account of:
Specific requirements for architectural projects

International, European and national standards

European Directives for the energy performance of buildings
Active for more than 20 years on the market, we set up our installations on any type of building:
commercial centres

administrative buildings

industrial storage buildings

fire stations
Thanks to its very reactive structure, discipline and experience in the field of smoke evacuation, ventilation and natural lighting, Rooflight Project complies with the strictest technical standards (EC marking, compliance with standard NBN S21208) and with the requirements of the main players involved in a project such as architects, design consultants, clients, etc.
Rooflight Project

is specialised in providing various services
Daylight (roofs and façades)
SHEVS installation – Smoke extraction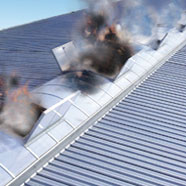 La sécurité en cas d'incendie est prise en compte par l'ensemble des responsables de projets. Les techniques auxquelles il est fait appel (alarme, détection incendie, résistance au feu, voies d'évacuation, moyens de lutte, désenfumage) doivent faire l'objet d'une approche globale et coordonnée. Une des principales techniques étant l'Evacuation de Fumée et Chaleur en cas d'incendie (EFC). Dans cette optique, nous concevons, fabriquons et installons des systèmes EFC en parfaite concordance avec les normes européennes (EN-12.101) et belges (NBN S21-208) en vigueur, ainsi qu'avec les prescriptions des services incendies avec lesquels nous entretenons des contacts directs et réguliers.
Energy Performance of Buildings (EPB)
L'objectif principal poursuivi par la directive européenne (2002/91/CE) est de promouvoir :
l'amélioration de la performance énergétique et du climat intérieur des bâtiments

la diminution des besoins et coûts en énergie primaire

la réduction des émissions de CO2.
Il est important de tenir compte de la dimension énergétique dans un projet de construction ou de rénovation dès sa conception. C'est pourquoi notre volonté de recherche de solutions en la matière s'est concrétisée dans divers projets et exécutions pilotes (nous consulter).
Maintenance and installation
La gestion interne de nos propres équipes de pose nous permet de garantie un travail de grande qualité (ISO 9001) dans les meilleurs délais et dans des conditions de sécurité maximale (VCA**). Notre activité de maintenance et de suivi des installations EFC s'est fortement développée afin d'assurer un parfait fonctionnement des installations. La garantie prolongée de nos installations ainsi que son bon fonctionnement ne restent d'application que si l'installation est entretenue annuellement par nos soins. Pour ce faire nous mettons à votre disposition un service de contrat d'entretien.
Notre bureau d'études suit chaque projet, peu importe son importance, depuis sa conception jusqu'à sa réalisation. De plus, il vous assiste pour toutes vos études d'ingénierie climatique ou de sécurité incendie.